May 22nd to May 28th, 2016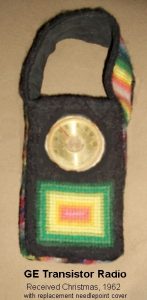 I always enjoy hearing from you, whether it's a request or to share some news or thoughts. I was very pleased to hear from
Mary Lee in Floresville, Texas. She really enjoys the show and sent a very nice note to share her memories of growing up and for nearly every vacation, her family would drive a pickup truck pulling a trailer. Their destination was often northern British Columbia and the Yukon and she would pass the time listening to her "Japanese transistor radio". And she even sent a photo of that radio which she said still works to this day. What a great memory to share. Thanks very much Mary Lee. I'd love to have you share your memories with me too. Get in touch by email: michael@treasureislandoldies.com.
If you'd like to send in a request, you can also record your voicemail request and message by calling the Listener Line. Call 641-715-3900 and when connected enter the extension 716181 followed by the # (pound) symbol. I look forward to hearing from you as well and to playing your request.
The Chat Room was busy again this week with some new visitors, including Sandy in Florida, and another visitor who hasn't dropped by in a long time. Rob who lives near Cambridge, Ontario stopped by for a long overdue visit and was so pleased to chat with everyone again. If you've never had a chance for a visit, I can tell you that it puts a new spin on the enjoyment of the show. There is always a lively conversation going on. I'd love to welcome you as well. During the live show Sundays, come to the website and click Chat on the menu bar at any page. Just follow the easy instructions and voila you'll be part of the fun too.
My Generation Posters and More have a great "Victoria Day Sale" all week. Canadian posters are 50% off! Please check out their website for more information. And be sure to sign up for their weekly newsletter. You'll be among the first to know about the upcoming weekly specials. And be sure to also let them know you heard their commercial on Treasure Island Oldies.
If your birthday is coming up soon, please be sure to let me know so that I can celebrate your special day on the show. Send the details to birthdays@treasureislandoldies.com. I'll wish you Happy Birthday during the show and also play Birthday by The Beatles for you.
The Treasure Island Oldies Blog is playing the Number One song on this week's Top 5 Countdown from 1961. It's Archie Bell & The Drells with their signature hit, Tighten Up. It's our Song of the Week. Enjoy!
Be sure to join us for our next special, which will air live Sunday, June 19th. It's our Annual Father's Day Special. Every song throughout the four hours will be dedicated to Dad. Always a special occasion to honour our dads. Hope you'll listen from 6 to 10 PM Pacific.
Voice Your Choice presents Brenda Lee, one of the most popular female vocalists of all time. Cast your vote at the Voice Your Choice page for either As Usual or Emotions, both great ballads. I'll play the winner on next week's show.
Here's this week's Rock and Roll News Podcast.
Listen to the Top 5 Countdown from 1961.
Take care. See you next week.
Bye for now.
Michael